200 Hrs Yoga Teacher Training in India – Overview
Alakh Yoga School offers a 200 Hour Yoga Teacher Training Course which is suited for yoga practitioners of all levels. The TTC course is open for everyone who wants to embark on their teaching career or looking to go further in their passion for yoga. The teacher training course will cover traditional and dynamic Hatha Yoga poses along with Ashtanga Yoga poses. Apart from the standard subjects, the course curriculum also offers unique modules on "Clearing Emotional Blockages" and on "Basic Naturopathy Self Healing Techniques (Using 5 elements)". These modules are unparalleled and extremely important when it comes to fully immersing yourself in an empowering and inner practice as Yoga.
Alakh Yoga is a Yoga Alliance, USA and Yoga Alliance International registered school, and our 200 Hour Yoga Teacher Training (YTTC) is recognized by it. Once the course is completed, every student receives a Yoga Alliance, USA certification in his/her name. This certification has a life-long validity and it allows every yogi who has it to teach Yoga worldwide.
Why Join Alakh Yoga?
The course follows high-quality standards by including subjects, such as asanas, pranayamas, kriyas, chanting, mantra, meditation, Anatomy & Physiology, Yoga Philosophy/Ethics/Lifestyle, and other traditional yoga techniques. Besides that, the 200 Hour Yoga Teacher Training Course is customized with a new focus on some other interesting practices listed below that are fundamental to teach Yoga in the proper way.
Emotional Blockage Treatment
Emotions play an extremely strong role in one's life. However, we live in a society where we constantly have to suppress our emotions, which creates emotional blocks. What if something went wrong in the past can't let us fulfill our quest for knowledge and inner mental wellness? We teach various techniques on "How to Clear Emotional Blocks". The students firstly experience it first hand and once you learn how to do it on yourself first, you'll be able to guide your students, helping them ease stress, anxieties, and traumas. There is going to be some guided practice to understand the huge relationship between emotional accumulation in the body with thought patterns. With these techniques when combining with yoga practice, our graduates would really stand out in guiding people n the yogic path of true happiness.
Self-Healing Through Five (5) Elements
Naturopathy healing is one of the oldest forms of alternative medicine in India. During the course, you are going to learn about basic Naturopathy techniques using the 5 elements (earth, water, fire, air, and space). It not only helps in healing but also boosts your energies. This module offers a unique opportunity to learn how to reconnect through Earth, Water, Air, Fire, and Space to rebalance the body and the mind.
Yoga Nidra and Relaxation Techniques
Yoga Nidra is a useful guided yogic practice for deep relaxation, emotional situation management, and stress relief. It is also called "Yogic Sleep" that helps one "to get in and look internally" in order to find the harmony of body, mind, and spirit. You pay close attention to the various parts of the body as you relax. The perception of the various parts is orchestrated by the yoga teacher with the will to create a shiny quiet and a state of deep relaxation. It resolves nervousness, irritability, treats colitis, irritable bowel syndrome, and useful against menstrual disorders, dizziness, and hypertension.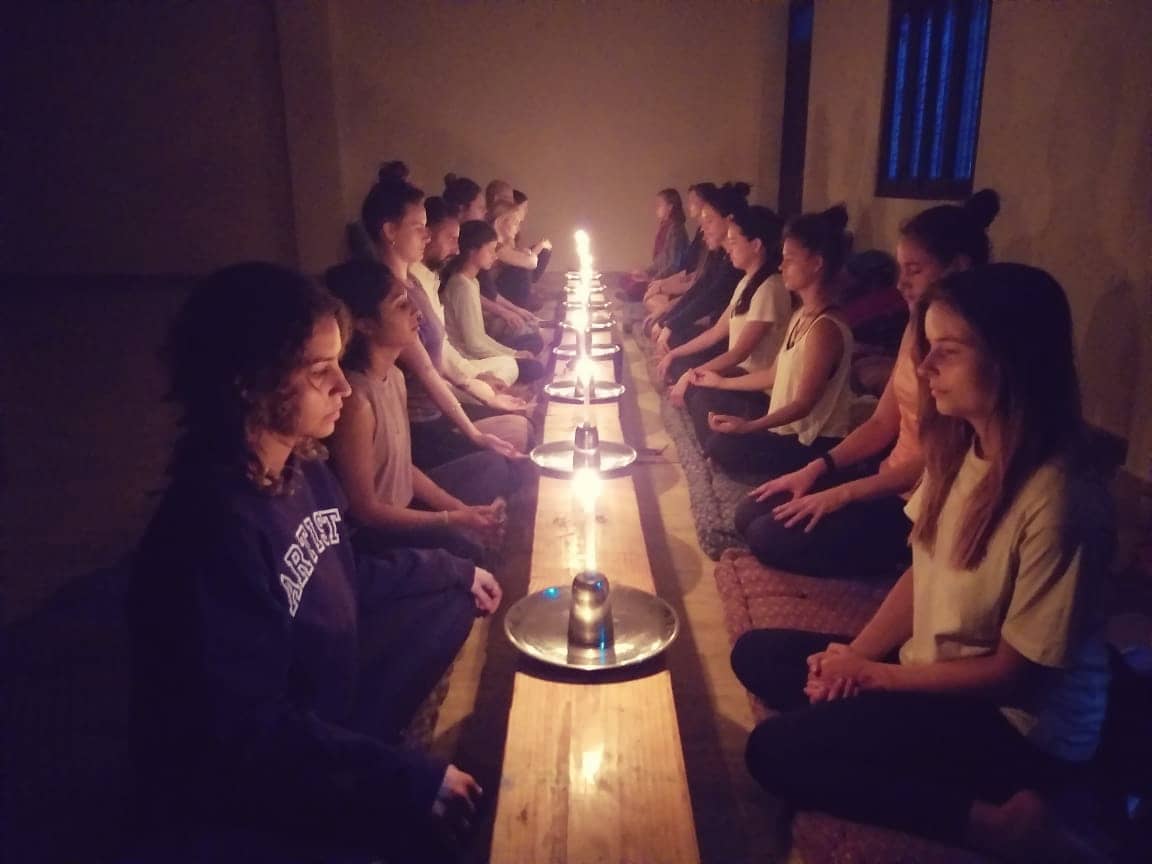 Yogic Breathing Techniques
Breathing properly is key to a successful yoga practice. Practicing without the right breath, you will never be able to extract its true potential. As we know, moving with the breath is what can lead a yogi to internal massage, which helps to heal the organs and release tensions. Plus, several yogic breathing techniques are fundamental to deepening your spiritual practice. We will teach you these techniques and how to add them to your movement to gain a deeper experience.
One to One Question & Answers
During the course, you will have the chance to create interesting educative Q&A sessions with your teachers to clear any doubts, concerns, or curiosity about the yoga practice and spiritual journey. This part is so important in order to feel supported and guided in this exciting new phase of your life.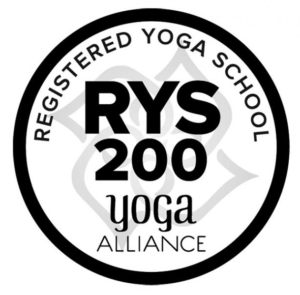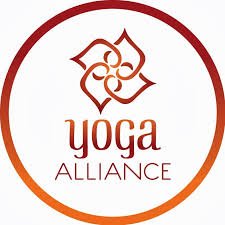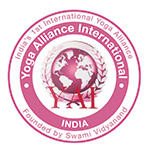 Highlights of 200 Hour Yoga Teacher Training Course Curriculum:
Asana Practice
The Hatha Yoga teacher training course in India will cover traditional and dynamic Hatha Yoga poses along with Ashtanga Yoga poses. Our focus will be to teach students with correct alignment and adjustments. Along this practical journey, the students will also be able to learn the poses with Sanskrit names, their origin, and their modifications. We expect students to explore their body during yoga postures with no stress of performance but instead focus on how to be present on what you are experiencing at that specific moment and try to really deepen your practice with patience. There will be daily 2 classes in the morning and evening.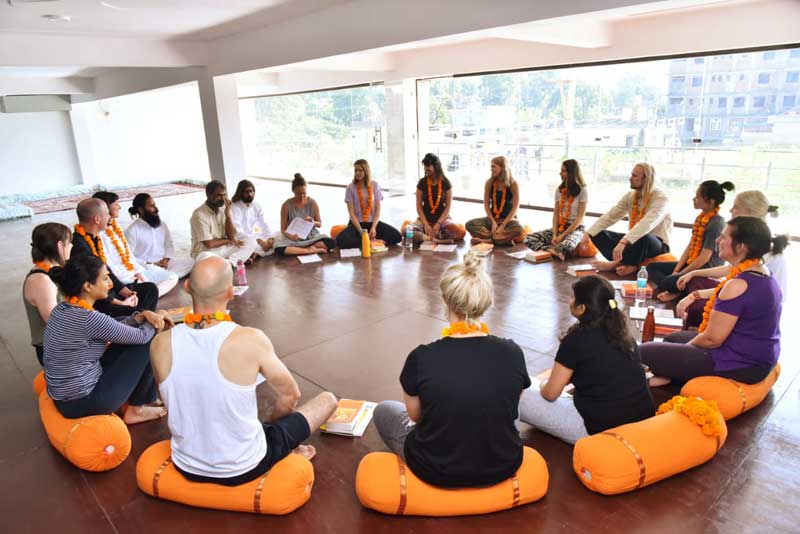 Pranayama
The word "Prana" means 'breath or vital life force' in the body. Every morning, we will start our day with Pranayama practices to really engage our body in the right way for the yoga practice. Pranayama acts on your organs with a perfect mixture of both breathing methods and movements, thereby, improving the elimination of toxins, blood and lymph circulation, kidney filtration, nourishing the nervous system. This acts positively on memory, helping digestion, freeing from negative thoughts, and so on.
We will focus on Yogic breathing, NadiShodhana (alternate nostril breathing), Sheetali (cooling breath), Shitkari (hissing breath), Bhramari (humming bee breath), Ujjayi (the psychic or victorious breath), Bhastrika (bellows breath), Kapalabhati (frontal brain cleansing breath), Suryabheda (vitality stimulating breath), etc.
Philosophy
Yoga Philosophy is one of the primary reasons why many students choose to come to India, "The Birthplace of Yoga". Our yoga philosophy classes will cover many ancient texts of yoga (its origins, history, and concepts) and what are its mains paths. We will cover it with a unique touch of dedication and intention that students are not only able to understand it but also start living it. Our classes will give you a solid background and knowledge that will come in handy to your teaching path.
Meditation
Several times we separate yoga from meditation and how this practice is really necessary to deepen our yoga practice. Learning to meditate could seem quite tricky at first but, during the course with our teachers will responsibly guide you. You are going to explore several different active and passive meditation techniques that allow one to be in the present moment. Meditation is one big part of your yoga journey and it will have a lot of attention during our teacher training.
Anatomy
During our YTTC, you are going to learn about anatomical and physiological aspects of your body that we are going to work on during the yoga practice. This is a fundamental subject when it comes to physical practice and your future as a teacher. It is useful in understanding the health benefits, avoiding injuries, and therapeutic benefits of asanas. Learning about the functions of the body and how to apply this knowledge will be our core focus. Following this practical and documented approach, you are going to realize all the benefits and actions of yoga for your physical and mental wellness.
Teaching Method and Practice
You will have the necessary information, tips, and guidance in order to become a prepared and competent teacher. Lessons will involve demonstration, adjustments and, a one-by-one approach to follow every student during their journey. You will learn not only how to structure and organize a class properly but also improve your own practice. There will be a major focus on hands-on adjustments, individual care of each student, and dealing with injuries and safety.
Extra Topics of Our 200 Hour Yoga Teacher Training Course
Shatkarma and its six Purification techniques
Seven Chakras and energy healing sessions
Serving with devotion, surrender, dedication, love, and commitment (Kriya Yoga)
Satsang as a meditation group to upgrade your spiritual side and explore even more your inner-self (Bhakti Yoga and Mantra Chantings)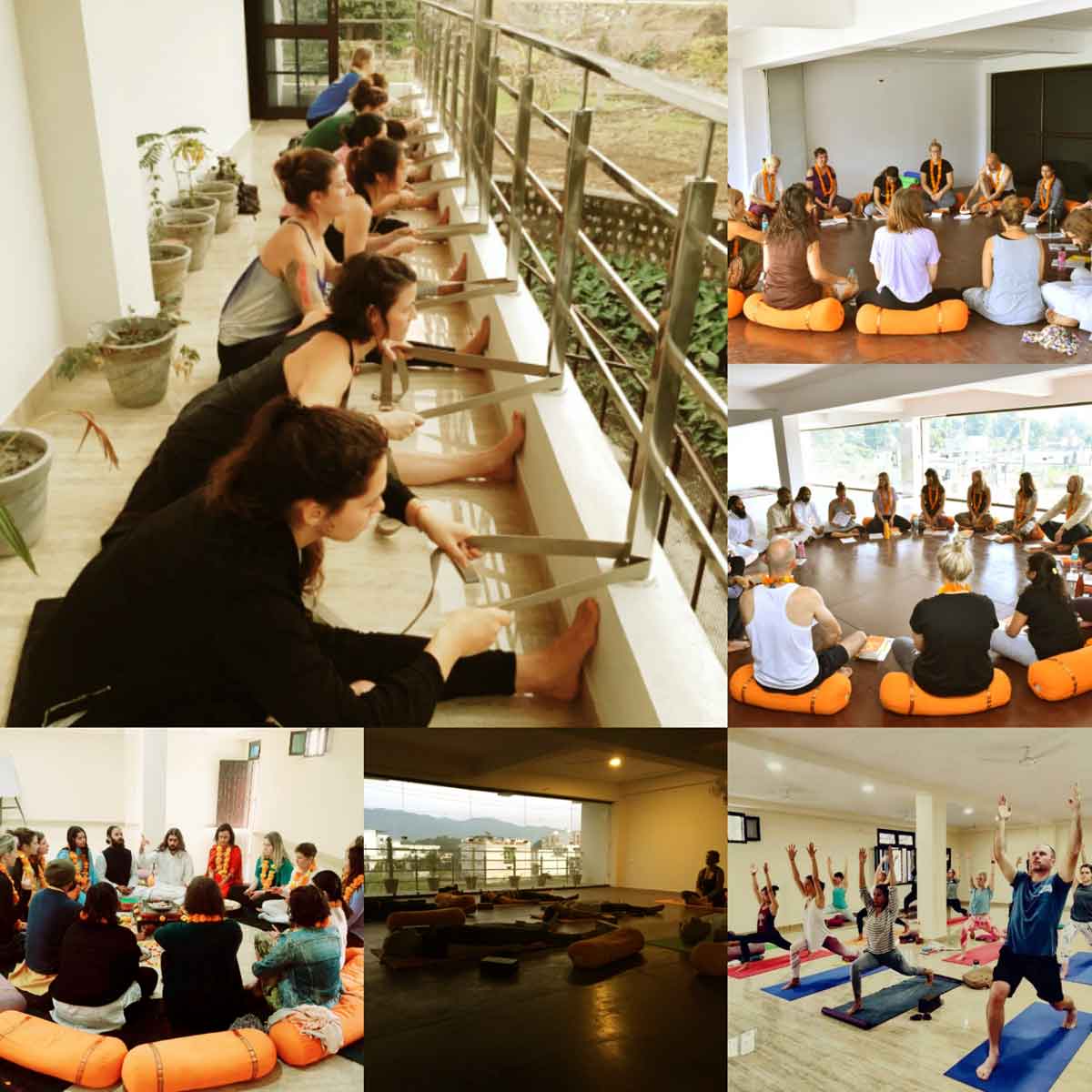 200 Hour Yoga Teacher Training Dates and Fees

Starting from 850 EUR | 26 Days | Rishikesh, India

Month
Period
Course Fees
June 2021
3rd June – 28th June
Starts From 850 EUR
July 2021
3rd July – 28th July
Starts From 850 EUR
August 2021
3rd August- 28th August
Starts From 850 EUR
September 2021
3rd September- 28th September
Starts From 850 EUR
October 2021
3rd October – 28th October
Starts From 850 EUR
November 2021
3rd November- 28th November
Starts From 850 EUR
December 2021
1st December- 21st December
Starts From 850 EUR
January 2022
8th January- 28th January
Starts From 850 EUR
February 2022
3rd February- 28th February
Starts From 850 EUR
March 2022
3rd March- 28th March
Starts From 850 EUR
April 2022
3rd April – 28th April
Starts From 850 EUR
May 2022
3rd May- 28th May
Starts From 850 EUR
What is Included
The tuition fee for 200 hours Course
Accommodation: Private/shared room with attached private toilet
Three-time Vegetarian Sattvik Meals
A Reference Book for Yoga-asana
Jal Neti Pot and Sutra Neti
Enema Box
200 Hour Yoga Teacher Training Course Daily Program
| | | |
| --- | --- | --- |
| 6:30 am | 7:30 am | Shatkarma And Kriyas |
| 7:30 am | 9:30 am | Pranayama And Morning Asana Practice |
| 9:30 am | 10:30 am | Naturopathy Treatment |
| 10:30 am | 11:30 am | Breakfast |
| 11:30 am | 01:00 pm | Yoga Philosophy or Anatomy Class |
| 01:00 pm | 03:00 pm | Lunch and Rest |
| 03:00 pm | 04:00 pm | Yoga Alignment |
| 04:00 pm | 04:30 pm | Tea Break |
| 04:00 pm | 06:00 pm | Evening Asana Practice |
| 06:30 pm | 07:30 pm | Meditation /Yoga Nidra/ Self-Study |
| 08:00 pm | 09:00 pm | Dinner |
Please Note:
Student Behavior
Don't forget to behave during your teacher training course. Be gentle, be respectful of your environment and of all your companions, and try to always be mindful but caring during your journey. Remind that your behavioral observations will be considered in your Yoga Teacher Training certification.
Additional
Please note that the food we provide to you during our YTTC is vegetarian and based on the sattvic diet to deepen your experience even more.
The Confirmation Fee must be paid in advance and is non-refundable.
Our Location in Rishikesh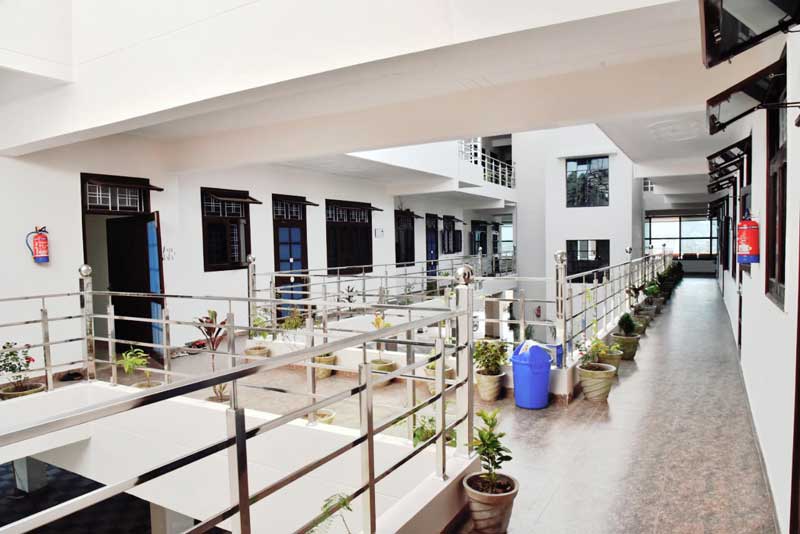 At Rishikesh, the school is located at Madhav Residency, where the teacher training course is organized all year round. Away from the hustle and bustle of Rishikesh center, both the campuses of the school are at a very quiet and peaceful location, which provides a perfect surrounding to be with oneself.